The Little Giant SKYSCRAPER Step Ladder makes replacing lights and performing other ceiling-height work in auditoriums, gymnasiums, racquetball courts and churches a simpler, far less time-consuming project. The inconvenience and expense of scaffolding or power lifts are, at last, no longer necessary.
The SKYSCRAPER Step Ladder comes in three sizes: 15', 17' and 21'. But perhaps the SKYSCRAPER Step Ladder's real beauty is its "fold-down" size. The SKYSCRAPER 21' stores in just 11'8" by 3'9" by 7-3/4". Shorter sizes of the SKYSCRAPER Step Ladder have even smaller "fold-down" sides.
Little Giant Ladders are 100% compliant or certified in the US and around the world by OSHA/ANSI, UL, QAS (Australia), TUV (Europe), and MIL (US Military certification).
Starting at:
$1,299.00 CDN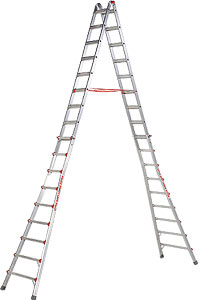 SKYSCRAPER Step Ladder